The best recruiters understand that despite all of the technology available to help them, the foundation of recruiting is a constant. Talent acquisition is about building relationships.
So, why add yet another communications channel to candidates when email and phone calls have proven themselves to be so valuable in building and maintaining past relationships? The answer is that times keep changing, and so do the ways we communicate. As that happens, the effectiveness of tried and true tools also change as preferences shift.
The nature of conversation is constantly evolving. That means recruiters must evolve their tools and tactics at the same rate to remain effective.
Always Within Reach
As of 2019, 81% of Americans own a smartphone. Messaging is the number one reported use of smartphones, and only in America, 292 million people used text message. 91% percent of those users keep their device within reach around the clock. And, while emails only generate a 20% open rate on average, text messages are read over 95% of the time, often within three minutes of being received. The average response time for a text message is 60 times faster than that for an email.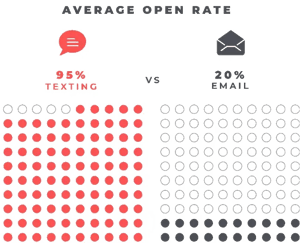 That tells us that texting—once embraced primarily by younger generations—has gone fully mainstream, penetrating every age group and demographic.
More data points to consider:
55 minutes … Americans spend an average of 55 minutes a day texting.


89% … In 2019, 89% of people reported they like to text with businesses and service providers.

The statistics confirm that text is simply too pervasive for recruiters to ignore. As a preferred method of communication for many candidates, it has quickly become one of the most reliable and rapid means of reaching talent. That is true for all members of the workforce, but especially so for workers who don't spend their days at a computer like construction workers, nurses, etc.
How Texting Fits Into the Recruiting Process
When the labor market is tight workers with specialized skills are hard to find and can pick and choose the job opportunities that they consider. So, it's especially important to accommodate how in-demand talent thinks about the recruiting process. Speed and convenience become paramount. If it's easy to have a conversation, then candidates will engage. If it seems like a hassle, they may won't prioritize responding because they know that they have options if and when they want them.
Today, most people use technology so extensively in their personal and working lives that they've developed high expectations about the speed and convenience of virtually all of their experiences, from buying products to paying bills and communicating with friends. Those expectations remain high when they're considering a new job, especially in a tight job market. Texting can help meet those expectations by reducing friction in the communications stream and making the experience more personal.
Used properly, texting moves the recruiting and hiring process along faster and more easily than other methods.
Why is that true?
Texting is Brief
Texts tend to get right to the point, which makes them easier to read and respond to.
Texting is Convenient
Candidates can respond to texts on their own time… while they're in the elevator, waiting in line for lunch or stuck on a conference call.
Texting is Direct
Text messages are viewed as personal communications, so job seekers know they are reaching a real person.
At this point, virtually everyone across the professional spectrum has a mobile phone on them 24/7, even if they aren't at a desk all day. And, many hourly workers don't own or have access to a computer and rely on their mobile devices exclusively. To reach them before the competition, recruiters must adopt a mobile first orientation.